Justyna Szpara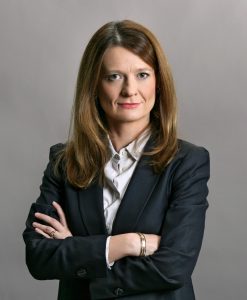 Justyna Szpara
Advocate, partner and head of dispute resolution practice group at Łaszczuk & Partners.
For more than 15 years she has been advising and representing Polish and international clients in commercial disputes in litigation and in domestic and international arbitration disputes, especially regarding M&A, real estate, construction contracts, investment projects, commercial law and commercial contracts.
She has been involved as a counsel in a number of high-profile arbitrations under the rules of the Court of Arbitration at the Polish Chamber of Commerce, Lewiatan Arbitration Court, ICC and UNCITRAL as well as post-arbitration litigations. Her experience includes also advising and representing clients in investment arbitrations.
She advises also on construction law, infrastructure projects, mergers & acquisitions, real estate transactions, commercial real estate tenancy and lease.
Justyna Szpara is a listed arbitrator for the largest in Poland, the Court of Arbitration at the Polish Chamber of Commerce and Lewiatan Court of Arbitration. Her experience includes being an arbitrator or presiding arbitrator in several dozen proceedings under the rules of permanent courts of arbitration as well as ad hoc arbitrations.
She has been recommended by international rankings Chambers Europe and Chambers Global in the field of dispute resolution and among the Most in Demand Arbitrators. She has been recommended by The Legal 500 EMEA among twelve leading individuals in the field of dispute resolution. She has been also recommended by the Best Lawyers in Poland ranking in the field of arbitration and mediation and in the field of litigation and by the Expert Guides to Commercial Arbitration since 2015. She is recommended by Who's Who Legal Arbitration: Future Leaders – Partners. In 2012, she was placed in the top position in Rising Stars, a ranking of young Polish lawyers organised by the largest Polish legal daily, Gazeta Prawna, and LexisNexis publishers.
Her social involvement includes serving as board member of the International Association of Young Lawyers (AIJA); currently she has been appointed the Honorary Member. She was a member of the Board of the Polish Arbitration Association. As of 2018, Justyna has been the Vice-President of the Polish National Committee of the International Chamber of Commerce (ICC Poland).
She is the author or co-author of numerous publications on arbitration.